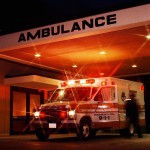 Update:
Earlier Friday, KMAN told of an accident at the intersection of Tuttle Creek Boulevard and Marlatt Avenue in the southbound lane causing traffic issues for about an hour.
The initial report from the Riley County Police Department stated a Chevy car and a Ford F150 collided causing both drivers to be transported for minor injuries to the head and leg.
At this point names have not been released.
One of the drivers was cited with failure to yield the right of way.
KMAN will continue to bring you details as they become available.
Update:
A Riley County dispatcher indicates the intersection was reopened within an hour.
An accident at Tuttle Creek Boulevard and Marlatt Avenue is causing traffic issues Friday morning, with southbound Tuttle Creek shut down at the intersection with Marlatt. The accident was reported at about seven a.m. Injuries are apparently involved with at least one requiring transport to the hospital. More information will be released as soon as it is available.