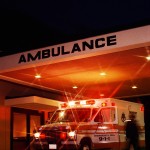 Riley County EMS responded to an emergent call concerning an accident on Thursday.
EMS responded to the incident at the 2300 block of Bellerive Drive a little after 10 a.m.
An individual's arm was caught in an industrial drum which caused an injury to the wrist. EMS took the individual to Mercy Regional.
KMAN will keep you updated on this story.