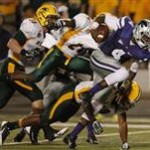 It was to be a full day of celebration for Kansas State Football. The dedication of the $90 million West Stadium Center and the Bill Snyder Statue outside the facility's main gate were held earlier Friday. Now all that remained was for K-State to delight its fans with yet another season-opening victory that would springboard the team to another remarkable season.
While a successful season is still a strong possibility, the invited guests, the Bison of North Dakota State didn't play their part as planned and ended up ruining the party. Brock Jensen's one-yard run with 28 second left in the game gave two-time defending FCS National Champion North Dakota State a stunning 24-21 victory over the Wildcats before 53,351 Friday night at Bill Snyder Family Stadium which was the second-largest crowd in school history.
The Bison who had defeated Kansas, Minnesota and Colorado State respectively from FBS in each of the previous three seasons, got on the board first when Jensen found Ryan Smith from five yards out and Adam Keller's extra point gave the Bison a 7-0 lead. K-State would even the score in the second quarter when Junior College Transfer Jake Waters found a wide open Tramaine Thompson from 45 yards out. Early in the third quarter, Waters struck again this time hooking up with Tyler Lockett for a 56-yard scoring pass to put K-State in front 14-7. Dante Barnett's interception set up a 17-yard run by Daniel Sams who was on the short end of the summer camp Quarterback competition and the Wildcats seemingly had a comfortable 21-7 lead.
However North Dakota State responded with a nine-yard Jensen touchdown pass to Kevin Vaadeland to pull to within 21-14. After a K-State punt pinned NDSU on the two-yard line, a 66-yard run set the Bison up in Wildcat territory and Keller knocked home a 41-yard field goal to cut the lead to four points. K-State had to punt the ball away with 8:58 left in the fourth quarter. Little did they know the Bison would run 18 plays and cover 80 yards before Jensen's one-yard plunge with 28 seconds left. K-State had one last chance, but Waters threw his second interception of the game and the Bison celebrated what may be one of the biggest wins in their program's history.
Before Friday, K-State had won 23 consecutive home openers and 22 of 23 season openers with the last loss coming in 1989 to Northern Iowa in Snyder's first-ever home game as Wildcat coach. It was also the first non-conference home loss for the Cats since Louisville won at Bill Snyder Family Stadium in 2006. K-State also finds itself under the .500 mark for the first time since the end of the 2008 season.
K-State will get an extra day off before welcoming Louisiana on September 7 to Bill Snyder Family Stadium. Kickoff for that contest is set for 5:30 p.m.

Stay connected to all things KSU on the go just text EMAW to 88474

For full video wrap-ups, including analysis, highlights, coaches & player interviews of K-State Football & Basketball check out PowerCatGameday.com