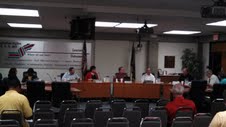 Wednesday brought another Manhattan Ogden school board meeting and a few items to discuss.
The only new business item on the agenda was to take action on the facility use fees, which Dave Colburn, board member, encouraged the administration to possibly looking into an increase for next year that would help to recoup some of the costs that go into renting the facilities.
The board passed the fee increase with a 6-0 vote.
The annual transportation report was also given the to board during their meeting.
Doug Messer, transportation director, told the board there needs to be a replacement rotation in place to get the buses updated as a number of them have or are reaching their 12 year mark.
Messer reported he recently had to take a bus out of commission because of the amount of damage that needed to be repaired would have been too great.
Bids will be brought during the board's next regular business meeting and a recommendation made on how to proceed on purchasing replacements.
The board also took time to recognize Terry Healy, Woodrow Wilson and Marlatt Gifted Education teacher, as the 2013 Kansas History Teacher of the Year.
On Wednesday, October 23, the board will be holding their fall retreat. It will not be broadcast.