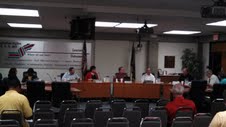 As the USD 383 school board met for their fall retreat, two items were slated for the agenda.
First up was the issue of the future of the College Hill Preschool. 
Curt Herrman, board president, proposed three options to consider.  The first was to repair and renovate the current building.  The second was to build a brand new building in the same locations.  The third option was to build a new building in a completely new location, such as next to the Northview Elementary School.
As discussions continued on the subject, other ideas were thrown into the mix and they included moving the pre-school classes into some of the other buildings around the district.
Darell Edie, board member, made the comment that if nothing was done with College Hill now though, "[It] has to be closed." 
The administration was going to review the recommendations from BG Consultants and prioritize what must be done to make the building safe and secure for everyone there.
Shelley Aistrup, Principal at both College Hill and Northview Elementary, hopes to see some work done soon to get hot water into the building and also to make it a bit more secure and safe. 
The board has not, however, decided exactly what the future holds for the building.  For now only necessity dictates what work will be done at the building.
The second issue on the agenda was that of the Manhattan High School East campus. 
This item held more uncertainty as no direct path was chosen except to again have the administration look into prioritizing the findings of Gould Evans and using the money from the West Campus bond project to fund what needs to be taken care of. 
The decision as to what is to become of the building or the arrangement of the district was still up in the air at the end of the night. 
Talk did ensue of a bond issue in the near future as the district could possibly be in need of a new elementary school sooner or to actually remodel the east campus and rearrange the grades within schools.
Dave Colburn, board member, puts in his take that the 9th grade should remain separate, but there could be a possibility of moving 6th grade in with the 7th and 8th graders. 
Again, nothing has been decided and the issues are expected to return at a later board meeting.