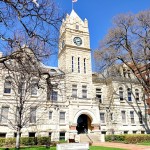 Jury selection lasted most of Wednesday in a change of venue murder case, being heard in Riley County District Court.
Antonio M. Brown Sr., 29,  faces charges in connection with the beating death of a 14-month-old child nearly two years ago. The mother of the child has already been convicted of second degree murder and has been sentenced to 13 years in prison.
KMAN news reported on the case several times earlier this year, with Brown escaping from prison in February. He originally entered a plea of no contest to first degree murder but then withdrew his plea. Brown escaped the night before he was to be sentenced by walking out of a jail holding cell after it was opened by mistake.