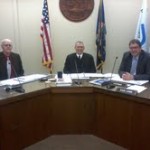 Raising Riley RIGHT is an early childhood program funded by the Children's Cabinets Initiative and Trust, from the state.  The program covers several different topics, including childhood behavior.
There is currently a vacant facilitator position within the program, which Riley County Health Department Director, Brenda Nickel requested be filled, during Thursday's county commission meeting.
The previous facilitator vacated the position to go to the infant/toddler program.  Nickel mentioned there is currently a staff member that has expressed interest in the position and has training in behavioral health.
The commission unanimously approved the request to fill the position.
———–
Bids were opened during the meeting for fire truck beds and tanks. Although Riley County Fire District #1 was able to save money by purchasing and refurbishing old forestry trucks, the beds and tanks for the trucks need to be purchased.
Two bids were submitted, both out of Salina, KS:
Watts Welding and Mfg.-                      1400 gallon tank-$32,999            1000 gallon tank-$20,999
Weis Fire and Safety Equip. Co.-         1400 gallon tank-$31,043.52       1000 gallon tank-$16,925.79