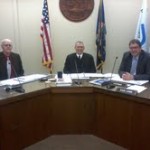 Topics on Thursday's Riley County Commission agenda ranged from increasing driver's license fees to adding a temporary bailiff to the district court.
The first work session held during the meeting, featured a "Certificate of Survey" for the parking lot purchase that has been discussed during previous meetings.  County Counselor, Clancy Holeman presented this item.  Nothing was approved, and he will return with edited language during a later date.
The other two work sessions featured more discussion, as differing opinions arose.  During the review of the Public Building Commission (PBC) draft resolution and draft bylaws, commissioners expressed their opinions about adding an advisory council along with the PBC.
Commission Chair, Dave Lewis commented, "I'd be open to looking at verbage, but we should do this similar to the sales tax and educate the public with public educational forums".  Lewis said his biggest concern is having an "as needed advisory council", as it could be difficult to find people that would like to serve in that capacity.
Commissioner, Robert Boyd disagreed, and stated, "we need input.  I'd like to see both (the PBC and the advisory council).  I'd like to see a very open process".
Holeman will return during a later meeting with adjusted drafts.
Riley County District Court Chief Judge, Meryl Wilson came before the commission to express the need for a temporary bailiff that would serve mainly during jury trials.  54 days, out of this calendar year, were utilized for jury trials.  Wilson stated, many times court clerks or court reporters would serve in a bailiff capacity, which in turn adds to their work load.  He listed a few ways the courts have saved money in other areas, in the hope to obtain the position:
moved law library-saved $12,000
went paperless in many areas
pursued bond forfeitures-almost 3 times the normal amount this year
poly-comb system- saved police department over 60 trips
Commissioner, Robert Boyd did not agree with the addition of the position.  "For the time being, I'm not in favor of supporting this", Boyd said.  The other two commissioners seemed to agree with Boyd that this was not the time to add the bailiff position on.
Holeman did manage to get two items approved during the meeting.  The first of which, was a resolution adopting "K-8 Travel Policy" for the Riley County Personnel Policies and Guidelines.  The second item was also a personnel policy matter, involving calculation of employee years of service.
———–
County Treasurer, Eileen King also presented a work session for increasing the service fee for driver's licenses.  Her request was to increase the fee from $2 to $4.  All commissioners said they were comfortable with this, and Holeman will write up a resolution.
King mentioned, she will officially be sworn in for another term on October 8th.