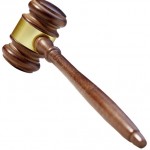 A Manhattan man has been bound over on charges of aggravated burglary, criminal damage to property and felony DUI.
Jonathan Watt's preliminary hearing was Friday morning in Riley County District court. His arraignment is set for August 26th.
Watt, 30, was arrested in July after striking a car and truck with his vehicle at the residence of two family members on Rimrock Road. Riley County Police indicate he then forcibly entered the home, damaging the door and door frame in the process. Watt also reportedly took various kitchen items from the home.
Estimated damage to the home and loss of property amounted to about $11,000.
###
The last of four people arrested in connection with thefts at Walmart the end of last year has finally entered a plea of no contest of felony theft.
Todd Anderson, 47, of Topeka entered the plea Thursday in Pottawatomie County Court.
Anderson is already serving time in Shawnee county on another offense.
Others who were arrested at the time whose cases have been completed include Sadaya Marshall, Shanell Praylow, and Kennesha Riley, all of Topeka. The thefts occurred the weekend before the New Year.