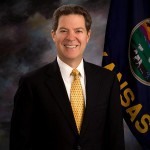 TOPEKA, Kan. (AP) Kansas Gov. Sam Brownback has signed an executive order offering a $5,000 reward for information leading to the arrest of a suspect in a homicide case in southeast Kansas.
The governor made the announcement Wednesday, seeking the public's help in locating Kevin Robert Welsh.
The 35-year-old Welsh, of Toronto, Kan., is being sought in connection with the shooting deaths of Keith and Sheila Kriesel, both of Eureka, and the shooting of a third individual on Oct. 2 in Eureka. Welsh is considered armed and dangerous.
Greenwood County law enforcement and the Kansas Bureau of Investigation have been searching for Welsh. Authorities say he may still be in Greenwood County.
Attorney General Derek Schmidt says his office will take the lead in prosecuting the case.