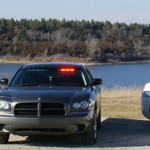 A fatal construction demolition accident is being investigated by the Geary County Sheriff's Department. Stephen Hetzler,63, of Manhattan died in the accident in the 2300 block of Poland Road, reported shortly before three Wednesday afternoon.
Geary County Sheriffs deputies, Geary County Emergency Management and paramedics were dispatched to the area regarding a call about a subject hit by a rock and knocked unconscious. Upon arrival, deputies and fire personnel found the unresponsive victim, later identified as Hetzler.
Hetzler was pronounced dead immediately by fire personnel on the scene. The investigation revealed Hetzler was working for a local company and was utilizing explosives to detonate rocks in the area.
The incident occurred at the Bayer Rock Quarry six miles west of Junction City.
Sheriff Tony Wolf indicates Hetzler was standing too close to the detonation area and was struck by one large lime-stone rock and possibly several other smaller rocks as a result of the detonation. Witnesses reported the incident occurred sometime between 1:50 and two p.m. Wednesday.
The preliminary investigation is ruling this as a work related accident but the incident is still under investigation by the Geary County Sheriff s Department, U.S. Department of Labor-Division of Mine Safety and Health Administration and the Kansas State Fire Marshal.