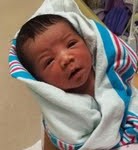 Mercy Regional Health Center welcomed its first baby of 2014 on Wednesday.
Amaia Gloria Banks was born at 3:24 a.m. on Wednesday, January 1st, giving her the distinction of being the first baby born at Mercy Regional Health Center in 2014. Amaia was 6 lb. 12 oz. and 20.5″ long.
Amaia's parents are Danielle and Mike Banks of Manhattan.She also has a big brother, Kameron, and big sister, Alivia.
—————
Geary Community Hospital welcomed their first baby of the new year-Sean DeMario Rivera-Smith.
Gianna Rivera gave birth to her son on Wednesday at the Martha K. Hoover Women's Health Center in Junction City.
Sean weighed 7 pounds, 11 ounces and was 20 1/4 inches long.
Gianna received a $200 WalMart gift card and a Geary Bear stuffed animal from the hospital.
(picture to come on Friday)