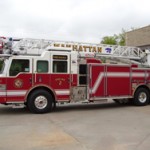 Updated:
More information has been released on an overnight accident in northwest Manhattan Sunday.
According to Mat Droge, Riley County Police Department Public Information Officer, the department responded to a single vehicle collision call shortly after 11:00 PM Sunday in the 7600 block of Anderson Avenue, which closed the intersection of Anderson and Silver Creek Road.
Droge stated Jorge Strom, 16, of Manhattan, was driving his 1993 Chevy pick-up when he lost control of his vehicle and hit a rock of some kind on the side of the road.
Strom was transported for neck and back pain.
According to Droge, the accident was not a roll over, but crews were dispatched as his car door could not be opened.
—-
An accident northwest of Manhattan Sunday resulted in the extrication of an individual and transport to a medical facility.
Riley County Police have not yet released details, but Monday's Manhattan Fire Department report indicates rescue crews responded to the accident shortly after 11 Sunday night in the 7600 of Anderson Avenue. The Riley County Fire district requested the mutual aid rescue.
Upon arrival, crews forced open the door of the small pickup involved, which had wrecked. A patient was removed from the vehicle and transported for treatment.
Again, no name or further information is available at this time.