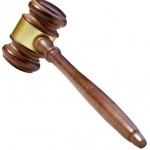 Eight Manhattan area attorneys will be interviewed June 18 as nominees to fill a vacancy in the 21st Judicial District that was created by the retirement of Judge Paul Miller of Manhattan.
Scheduled for interviews are Grant Bannister, a partner in the firm of Knopp & Bannister, in Manhattan; Amy  Bipes, a legal assistance attorney in the Office of Staff Judge Advocate at Fort Riley; John Bosch, a Clay Center attorney in solo practice; Sheila Hochhauser of Manhattan, a District Magistrate Judge; Kendra Lewison, Assistant County Attorney in the Riley County Attorney's office; William Malcolm, of Clay Center, a District Magistrate Judge; Kassie  McEntire, a Manhattan city prosecutor; and Phylemon Chuen-Man Yau, an Assistant Public Defender in Manhattan.
The interviews will be conducted beginning at 9 a.m., June 18, in Room 301 of the Riley County Courthouse. The public is invited to submit written comments regarding the applicants to any member of the 21st Judicial District Nominating Commission.
Members of the Nominating Commission include Barry  Clark, James  Morrison, Derrick  Roberson, Richard H. Seaton Jr., and Johanna  Lyle, all of Manhattan; Kyle  Bauer and Steven McMahan, both of Clay Center; and Steven  Hargave of Randolph. Departmental Justice Marla J. Luckert is the non-voting chair of the Commission.