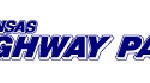 A 31-year-old Junction City man died in a Sunday motorcycle accident in Wyandotte County.
The Kansas Highway Patrol reports Justin Williams was northbound on highway 73 on his 1999 Harley Davidson when for an unknown reason the motorcycle left the roadway, went into the center grass median, and rolled. Williams was wearing a helmet and originally was taken to the Overland Park Regional Hospital.
The accident was reported shortly after 8:30 Sunday night, with Williams death confirmed at 4:40 this (Monday) morning.