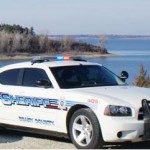 On Sunday July 1, 2012 at approximately 2:39 am, a Deputy with the Geary County Sheriff's Department attempted to initiate a traffic stop on a suspected intoxicated driver.
The driver, later identified as Richard Sandoval, 21, of California,  attempted to flee and elude the deputy. At about 2:40 am, the vehicle struck a tree and caught fire in the 500 block of West 8th Street, in Junction City.
The deputy and an officer with the Junction City Police Department attempted to remove Sandoval from the vehicle but were unsuccessful. 
Junction City Fire Department responded to the scene to extinguish the fire.
Sandoval was pronounced dead on scene by the Geary County Coroner. 
An investigation into the cause of the crash is being conducted by the Kansas Highway Patrol.