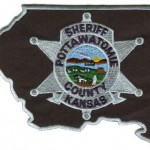 A juvenile party resulted in several arrests, according to a press release issued Tuesday.
Pottawatomie County Sheriff's Deputies responded to the area of 202 Norther Heights Circle on St. George for a parking complaint, around 2 a.m. Sunday morning.
After deputies arrived, they learned that juveniles had been at the residence allegedly consuming alcohol, some of which were still inside the residence.
Sheriff Deputies and the St. George police department investigated the incident and met with an uncooperative individual.  A warrant was applied and obtained for the residence .
As a result of this search warrant-Kameron Quinn (18) was taken into custody for:  furnishing alcohol to a minor, hosting a juvenile party, possession of marijuana, possession of drug paraphernalia, and minor in consumption of alcoholic beverage. His bond was set at $20,000.
Trey Campbell (20), of Manhattan, was also arrested for an outstanding warrant in minor in consumption.
One other juvenile was taken into custody for resisting arrest, possession of marijuana and possession of drug paraphernalia.