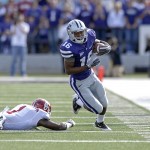 After not being included in the top 25 of any major poll at any point during the 2013 season, the Kansas State Wildcats check in at number 21 in the Preseason Amway Football Coaches Poll released Thursday.
K-State was also #21 in the 2012 Preseason Coaches Poll and rose as high as number 1 in the BCS Standings following a 10-0 start that season which eventually ended in a Big 12 Championship.
Defending National Champion Florida State is #1 while Alabama is #2.