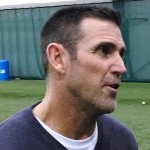 The Defending Big 12 Champion Kansas State Wildcats Baseball team held its Media Day Thursday indoors at the Brandenberry Baseball Facility.
In addition to Head Coach Brad Hill who begins his 11th season at the helm of the Bat Cats who came within one game of reaching last season's College World Series, local media also had a chance to talk with Ross Kivett, Shane Conlan, Levi MaVorhis, Blair DeBord and Jake Matthys.
Kansas State will begin the 2014 season on February 14 at Cal Poly with the home opener set for February 28 at Tointon Family Stadium against Milwaukee.
Stay connected to all things KSU on the go just text EMAW to 88474
For full video wrap-ups, including analysis, highlights, coaches & player interviews of K-State Football & Basketball check out PowerCatGameday.com