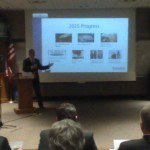 Kansas legislators have been touring the state to visit all of the higher education universities, and they made the stop at Kansas State University Tuesday morning.
University President, Kirk Schulz presented facts and statistics that outlined the university's goals, including the plan to become a top 50 research university by 2025.  Some of the initiatives the university has taken so far, to achieve this, include-hiring 1st national academy winner, building the new west stadium at the football field, and opening an honors house for honor students.
Schulz asked legislators to answer five fundamental questions about the university, including-Which is the official mascot of Kansas State University?  Willie the Wildcat, the jayhawk, a WSU shocker or Gus the Gorilla?
After Schulz's presentation, numerous questions were asked by legislators, many of which involved tuition rate increases and debt.
Kansas State University has an average of 17,458 students enrolling every year (which is close to the population of Newton), 1,107 course sections, 5,500 faculty and staff members, and is an 800 million dollar/year operation.
Legislators had the chance to take tours and eat lunch with K-State faculty.  They have two more stops on their legislative tour before they return home.