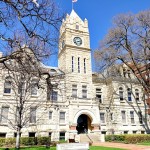 Hearings and trials were set for the two individuals charged with the first degree murder of a Manhattan man.
Christina Love (49) and James McKenith (33) were both arrested and charged with first degree murder three days after John Burroughs (68) was found dead in his residence, in September of last year.
Riley County District Court Judge William Malcolm specified that both hearings would be set on the same day, but wanted the trials to be separate.
Love appeared in court first. She made a plea of not guilty.  Her motion's hearing was set for April 1st at 1:15 p.m.  Her trial was scheduled for the week of June 2nd, as is expected to take the entire week.
McKenith's motion hearing was set for April 1st as well, at the same time as Love's.  His trial will also be a week long, starting May 5th.