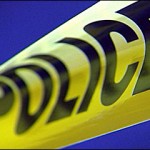 The Leonardville man involved in the fatal accident back in October, where Trevor Redding (17) died, has been charged with involuntary manslaughter.
Garrett Olson (20) was arrested Friday by Riley County Police and charged with two felonies-failing to stop at an injury accident, and involuntary manslaughter.  His bond was set at $10,000. However Monday's Riley County Police report indicates Olson was released on $35,000 bond over the weekend.
Olson was driving a 1990 Honda Accord Eastbound on LK & W Road, during that accident, just two miles northeast of Leonardville when the vehicle went into a skid , entered a ditch and struck a rock wall. The vehicle then overturned ejecting Redding who was a passenger in the back seat. Redding was pronounced dead at the scene.
KMAN will bring you more information once details emerge.