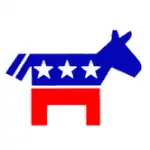 Kathryn Focke of Manhattan is currently at the Democratic National Convention, and she recently took some time out from the convention to speak about her time there. Delegate Focke explains her day starts with breakfast with the delgation, where there is usually a speaker,  followed by credentials being issued before being transported to the convention itself.
Focke says she attended the womans caucus, which was well attended with several thousand women present. There were several notable speakers there including the president of Emily's list, "which is a national fundraising organization for women canidates" explains Focke. Other speakers included Donna Brazile who is a former campaign manager for Al Gore; Singer Ashley Judd, CEO of planned parenthood; Cecile Richards, Chair of the National Democratic Party; and Congresswoman from Florida, Debbie Wasserman Schultz; Valerie Jarrett, who is Senior Advisor to President Obama; and Katherine Sebelius, Health and Human Services Secretary, who spoke on the new health care plan that has been put forth by the President.
Another caucus she attended was the small business owners caucus. This caucus focused on "all of the good things that can help small buisness owners" says Focke.  The small buisness outreach panel addressed some of these things. A gentleman on this panel, Scott Taylor from Kansas City, Missouri, talked about helping small buisness owner secure loans and  to promote them in general. Focke says "the purpose of the council is to reach out to small buisness owners and to help them get grants and loans, and to explain to them the different regulations that are always coming out.
All in all, Delegate Focke says that the convention has been a huge success and each speaker so far has been very well recieved. Every member of the delegation has been very excited so far and everyone is looking forward to working to further the cause of the democratic party.