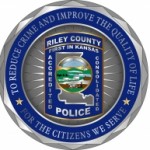 A large amount of methamphetamine was seized and two arrests were made by Riley County Police and other law enforcement agents Wednesday evening.
RCPD Public Information Officer Mat Droge indicates RCPD with agents from the Kansas Department of Corrections, assigned to the U-S Marshals Service Fugitive Task Force, conducted a search warrant in the 300 block of Holly Place in Manhattan at about seven p.m. Nearly 30 grams of meth were seized, as well as several items of drug paraphernalia.
 William Hancock, 54, of Manhattan faces charges of possession of meth with intent to distribute, and felony and misdemeanor counts of possesion of drug paraphernalia. Hancock's bond has been set at $8,000. 
Tawnee Bubak, 33, also of Manhattan has been charged with possession of meth, drug paraphernalia, and a parole violation warrant. Her bond was set at $3,000, although the parole violation warrant is listed as no bond.