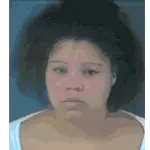 The Junction City Police Department is requesting assistance in locating a Junction City resident.  The department released information about the missing woman late Monday morning.
Amanda Clemons (24) was last observed leaving the Budget Host Hotel, located at 820 South Washington Street in Junction City, at 11:30 Friday evening.
It was reported that she was getting into a silver vehicle occupied by two black males and two other black females.
Clemons is approximately 5 foot 7, weighs 215 pounds, and is a light skinned black female.
If you have knowledge of Clemons whereabouts, please contact the Junction City Police Department at 785-762-5912.