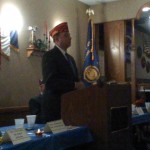 "We are the fabric of America".  This statement was made by National Commander, Daniel Dellinger Wednesday morning, during his visit to American Legion Post 17.
This stop was part of his three day tour of Kansas.  Commander Dellinger made ten visits prior to the visit in Manhattan, and had three more stops on his list, including Topeka VA Hospital.
Department of Kansas Commander, Gaylord Sanneman began the morning by sharing some of the upcoming events the legion is putting on-including the Turkey Day Run for Thanksgiving, various youth programs and cadet services.
Commander Sanneman introduced Commander Dellinger by sharing some of his background.  Dellinger resides in Vienna, Virginia and became an Army Infantry officer after graduating from Indiana University of Pennsylvania.  He is currently a member of the Sons of the American Legion, and has serves as a presidential appointee on the Federal Taskforce on SBA Hiring.  He even served as vice mayor of Vienna.
"We are the fabric of America", commented Dellinger.  He of course was referring to the American Legion, who has four million members throughout the nation and is coming up on it's 100 year anniversary.
Commander Dellinger focused part of his presentation on the recent 16 day government shutdown.  "I really do believe the congress is out of step.  They need to get their act together in Washington and we're here to tell them that", he commented.
Dellinger also addressed the furloughs in the military, as more and more soldiers are being diagnosed with post traumatic stress disorder.  The therapists to treat these soldiers are being furloughed, and Dellinger said medicine just is not enough for those people.
In the next year, the commander hopes to raise one million dollars for the National Emergency fund, which aids soldiers and their families during national disasters.  He mentioned he witnessed Hurricane Sandy and it's impacts, which sparked his interest in this effort.
The day concluded with 52 memberships being handed over to Commander Dellinger (new, renewed, and transferred).