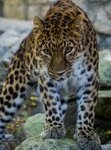 Sunset Zoo's newest animal addition – a male Amur leopard – is on public exhibit beginning Tuesday. Vlad, short for Vladamere, can be seen in the former snow leopard exhibit along the Zoo's Asian Trail. A female leopard is expected to arrive later this week and will join Vlad on exhibit sometime in November or early December.
Community members can visit the new resident daily from 9:30am to 5:00pm through Thursday or beginning Friday, the Zoo transitions to winter hours, opening daily from Noon to 5:00pm. Amur leopards are very similar in look, size and care to snow leopards.
The decision to transition to the new leopard species was made earlier this year due to the animal's critical population needs. Sunset Zoo has received a recommendation from the Association of Zoos & Aquariums (AZA) Species Survival Plan program to breed the pair, increasing their global population and providing a platform to bring awareness to this amazing feline's plight.
"We're ecstatic for guests to connect with this highly-endangered animal in person," said Scott Shoemaker, Zoo Director. "It is estimated less than 30 remain in the wild; we're honored to join a collective effort among AZA-accredited institutions to conserve these animals for future generations."
Vlad arrived in Manhattan in early October from Utah's Hogle Zoo located in Salt Lake City. The nine-year-old leopard has been in quarantine since his arrival; a mandatory process for all incoming Sunset residents to eliminate disease transfer among the Zoo's animal collection. Staff received a clean bill of health from Zoo Veterinarians last week and final adjustments to the public exhibit space were completed this weekend.
An eleven-year-old female from Pennsylvania's Erie Zoo is expected to arrive in Manhattan late Wednesday evening.