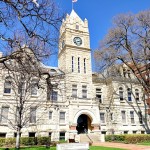 A man charged in a vehicular homicide case from last year entered a plea in Riley County District Court Monday afternoon.
Daniel Nitchman (38) entered a plea of no contest during his court appearance in Chief Judge, Meryl Wilson's courtroom.
As KMAN's previous story states-Nitchman was driving westbound on I-70 on September 8th of last year, when he fell asleep while driving, which caused him to leave the roadway.  Nitchman struck 31 year old Samantha Coleman, who had pulled her vehicle over on the side of the road and was waiting for assistance.  Coleman died at the scene.
He reportedly was driving 81 miles per hour when he fell asleep and veered off the road.
Judge Wilson accepted the plea of no contest, and found him guilty.  Nitchman will be sentenced on May 5th at 2:30 p.m.