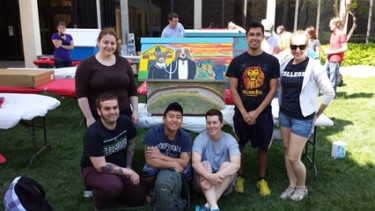 Instead of letting the dogs out veterinary students built dog houses in order to raise money and provide shelter for animals in the area. While this event happened locally it is a traveling event, called Home for Hounds.
Students assembled and decorated the houses in teams competing against one another and the top two teams received a prize from Nestle Purina, the major sponsor of this activity.
Third year veterinary medicine student from Manhattan Colin Adley a student representative for the company spoke on Nestle Purina,
"[Nestle Purina] is a company that strives to connect veterinary students with local animal shelters." The decorative supplies for the event were donated to the students by Sherman-Williams. The top dog houses were then auctioned off at the Helping Hands Bon Appétit event which was held on May 31st.
Activates though fun were aid provide shelter to local animals, the non-winning dog houses were given to the Helping Hands Humane Society in Topeka and also the Riley County Humane Society in Manhattan.