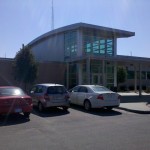 A vehicle burglary leaves a Manhattan woman without some personal items.
Meghan Lee, 20, was working out at Max Fitness located in the 400 block of East Poyntz on Wednesday when someone broke into her car.
The passenger window of Lee's Chrysler PT Cruiser was damaged and a number of items were taken including a purse, wallet, an iPad, an iPod, some currency, and other items.  The total loss was a little under $1,300.
The Riley County Police are still investigating.
—
A Kansas City man faces a significant bond after failing to appear for a misdemeanor.
Carl Garrett Jr., 20, was arrested around 2:30 p.m. Wednesday. Garrett's bond was set at $5,000.
—
Three charges landed one Manhattan man with a hefty bond.
Around 7:30 p.m. Wednesday, Braxston Bradford was arrested in the 1200 of 8th street, not far from his residence.
Bradford was charged with unlawful possession of a hallucinogen , obstruction of the legal process, and probation violation.  His total bond was set at $8,500.