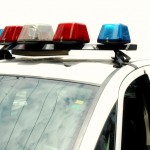 A birthday brawl landed one Manhattan man in jail for battering his roommate.
Riley County police received a call around 11:00 p.m. Tuesday, of an altercation taking place on the 1400 block of Claflin Circle.
Police arrested Cody Fegan, who turned 30 that day, for aggravated battery.  Fegan's roommate, 43 year old Jason Bokelman, was the victim in this altercation, receiving a minor cut to his neck from a knife.
Fegan is currently being held on a $10,000 bond.
—————–
A Manhattan man received a significant bond after stealing a vehicle.
Austin Thompson (21) was arrested by Kansas State Police on the 2000 block of Jay Court at 1:00 p.m. Tuesday.
He was charged with vehicle burglary, and both felony and misdemeanor levels of theft.
His bond was set at $5,000.