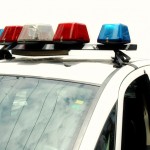 A Manhattan man was arrested during a traffic stop.
David Ballou (28) was arrested around 4:00 p.m. Tuesday for driving while suspended and habitual violator. This occurred on the 700 block of Fort Riley Boulevard.
His bond was set at $5,000.
———————
A vehicle collision near the intersection of Seth Child Road and Dickens Avenue was reported Tuesday at 8 o'clock.
Calvin Cyprian (27), of Manhattan, was driving a Chrysler Concord north on Seth Child when a frozen and obstructed windshield caused him to lose sufficient sight of the roadway. Cyprian's vehicle collided with the back end of a Dodge Ram 1500, driving by Austin Weiden (21) of Manhattan.
A citation was issued to Cyprian for driving with an obstructed windshield and no proof of liability insurance at the time of the accident. Cyprian was also transported to Mercy Regional for complaint of neck pain.