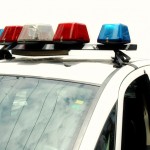 Riley County Police responded to an area north of Manhattan in an attempt to assist a woman who had suffered from gunshot wounds. The call came in just after 7 o'clock Tuesday morning.
Dispatch indicated, over the police scanner, that the woman suffered two gunshot wounds to her chest, but was able to speak with officers.
This incident is currently under investigation and details are limited at this time. There were no obvious signs of foul play and the woman is being treated for injury.
—————–
Two misdemeanors and one felony landed a Manhattan resident in jail Monday morning.
Zane Reeves (18) was arrested by Riley County Police around 8:30 a.m. for unlawful possession of a hallucinogen, one misdemeanor count of possession of paraphernalia with intent to distribute, and one felony county of possession with intent to distribute.
Reeves's bond was set at $6,000.
—————–
A probation violation resulted in the arrest of an Ogden man Monday afternoon.
Around 3 p.m., James Adams (29) was arrested by Riley County Police for violating his probation. The original offense for this probation/parole was sexual exploitation of a child and failure to register as a sex offender
His bond was set at $5,000.