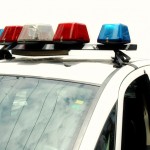 Two felony offenses and two misdemeanors landed a Manhattan man in Riley County Jail on Valentine's Day.
Jose Narvaez (32) was arrested in the 900 block of Mission Avenue, here in Manhattan, and was charged with-driving under the influence, refusal of breat test, driving license suspension, and failure to report an accident.
Narvaez's bond was set at $7,000.