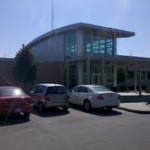 A Manhattan man was arrested during the early morning hours of Thursday after he reportedly battered a law enforcement officer.
Riley County Police arrested Riley Harris (28) in the 600 block of North Manhattan Avenue for driving under the influence of alcohol or drugs, battery of a law enforcement officer, and obstruction of the legal process, as a result of a traffic stop for a traffic violation.
At the time of his arrest, Harris attempted to flee by resisting and battering one of the officers on scene.  No significant injury was reported by the officer.  After a short struggle, officers were able to gain compliance and ultimately transported him to Riley County Jail without further incident.
His bond was set at $5,500.