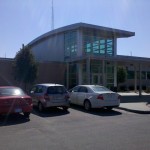 A minor traffic violation led two people to the Riley County jail Thursday.
Kaitlyn Watt, 20, of Manhattan, was driving the vehicle when a Riley County Police officer pulled her over for a traffic stop.
Upon further investigation, there was a discovery of drugs within the vehicle.
Watt was charged with no drivers license and had a $500 bond, while her passenger Brisa Meza, 27, was arrested for possession of methamphetamines and possession of drug paraphanilia.  She was being held on a $5,000 bond.
—
The Riley County Police Department have made an arrest in a case from January.
John Deem, 21, of Manhattan, was arrested on warrants for misdemeanor theft, criminal deprivation of property, forgery and misdemeanor criminal use of financial cards.
The initial report was made on January 27 by Dennis McMaster, 62, of Manhattan, after his vehicle was stolen along with some checks.
Deem's bond was set at $8,000.
—
A Manhattan woman was still confined in the Riley County Jail as of Friday morning.
Elizabeth Stuart, 21, was arrest for failure to appear on a warrant stemming from an original assault charge.
Stuart was being held on a $5,000 bond.
—
A Concordia man is spending some time in the Riley County Jail after a traffic stop.
Damian Donlon, 42, was arrested for a DUI and was being held Friday on a $5,000 bond.
—
A theft case continues to be investigated by the Riley County Police Department.
Eric Wisdom, 65, of Manhattan, reported a known suspect arrived at his place of residence sometime between 2 and 5 pm on Thursday and took his 1991 GMC Jimmy.
The vehicle was still not returned as of Friday morning.
The total loss is $3,500.
—
Manhattan sees another lewd and lascivious incident this week.
A 25-year-old female reported an unidentified male stopped her while in the parking lot of a local business in the 600 block of Tuttle Creek Boulevard at about 11:30 Thursday morning to ask direction.
He then proceeded to expose himself to her.
The man drove off before police could arrive, but a description was given and an investigation continues.
—
Social media has aided in a sexual offense report.
At about 3 pm Thursday, the report was filed from North County concerning a juvenile suspect who sent inappropriate photographs through a social media account to the juvenile victim.
No arrests have been made and the investigation continues.