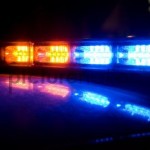 An aggravated battery case resulted in injuries due to a beer bottle and pepper spray.
Around 10:15 Tuesday evening, Riley County Police officers responded to the northwest portion of Manhattan for a report of aggravated battery, that seemed domestic in nature.
Once police arrived on scene, the 31 year old male victim was found to have sustained injury from a glass beer bottle after being struck in the head.  This injury was caused by a 21 year old male who used the bottle during the altercation.  Pepper spray was also deployed by the victim against the 21 year old male.
Another suspect was involved in this battery investigation:  a 41 year old male.
Injuries did not appear to be life threatening, and no arrests have been made at this time.
—————————
A rape was reported to Riley County Police on Tuesday at approximately 10:30 p.m, although the incident occurred on the Sunday prior.
Police were informed of the incident that involved two people who were known to each other-a 20 year old female victim and a 22 year old male suspect.  The suspect reportedly had sexual intercourse with the victim without her consent.
This crime took place in the city limits of Manhattan, and no arrests have been made at this time.