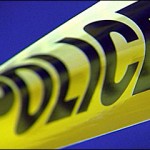 An aggravated battery report was filed in the 300 block of Fremont Street, here in Manhattan, Monday evening.
Jeremiah Conner (27), of Manhattan, was reportedly attacked by a person who was known to him.  This attack involved a golf club and left Conner with minor cuts and bruises around his face.
This battery was a result of a verbal argument, and no arrests have been made at this time.
—————–
Riley County Police responded to a complaint of burglary in the 300 block of Appaloosa Trail in Ogden Monday evening.
This burglary is said to have occurred between the 19th and the 20th of this month, and left Lorie Leffler (43), of Lawton, Oklahoma with a loss of around $3,500.
Items taken from her residence were unsecured, and included U.S. currency and jewelry.
No arrests have been made at this as officers are still currently investigating this incident.