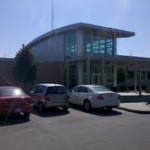 A motorcycle accident near Fort Riley Boulevard and South Manhattan Avenue sends one person to the hospital.
Adam Wright, 29, of Fort Riley was traveling westbound on Fort Riley Boulevard when he lost control of his 2008 Honda Motorcycle Monday night.
EMS transported Wright to Mercy Regional Health Center for complaints of pain.
No other vehicles were involved in the accident and no citations have been issued at this time.
####
A reported theft leaves one Kansas man with one less vehicle.
Scott Taylor, 47, of Marysville told the Riley County police that unknown suspects illegally took possession of his 1962 Pontiac and removed it from its location in Randolph Monday night.
Total estimated loss for the vehicle is $15,000.
This case is still under investigation.
####
An outside warrant sent one man to Riley County Jail earlier this week.
Joshua Davies, 26, of Topeka was served a warrant and arrested Monday afternoon for a failure to appear charge out of Pottawatomie County.
Davies is no longer confined after making his $5,000 bond.