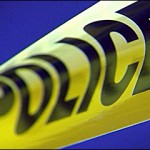 Riley County Police arrested a Manhattan woman for battering and interfering with a law enforcement officer.
On Tuesday, around noon, Riley County Police attempted to make an arrest regarding a failure to appear warrant with a bond of $750.
Officer Lori Axton with the Civil Process Unit of the police department, became the victim of battery when Nantinee Chorbi (48) bit and scratched the officer, leaving minor injuries. Chorbi was arrested for her warrants, as well as the additional offenses, and her bond was set at $3,000.
———–
Numerous electronic items were taken from a Manhattan residence on the 700 block of Allen Road.
Riley County Police reported Wednesday that a complaint of burglary was filed by Sarah Mitchell (27). The woman said she had several items, including a computer monitor, television, speakers and a video game system, taken from her residents sometime between July and September of this year.
The total loss in this case is $3,030. Officers are still investigating.
———–
An arson report was filed Tuesday afternoon, around one o'clock, after Riley County police after a vehicle was found abandoned and set aflame.
A vehicle was taken from Jayme Beldzig (30), of Junction City, and was abandoned in the 1300 block of Temple Lane in Riley County.
The 1992 Chevy van was found on fire, and the total estimated loss is $1,500. No arrests have been made and officers are still investigating this crime.
———–
Officers with the Riley County Police Department responded to a complaint of burglary that occurred during the overnight hours of Monday into Tuesday morning .
Police reported Wednesday that the burglary took place in the 800 block of Stadel Road, here in Manhattan. Upon arrival, officers found John Wolf (47) who said an unknown suspect illegally took possession of items belonging to him. These items were located in a shed and vehicle and they included-copper tools, and US currency.
The total estimated loss in this case is $1,150. No arrests have been made at this time, but officers would like to remind the community to secure all vehicles and buildings to help reduce your risk of becoming a victim of crime.