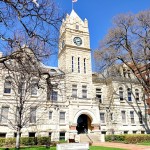 An Ogden man has been bound over for an August 12th arraignment in a murder case involving his girlfriend's six month old child.  Michael Dechant, 19, had a preliminary hearing in Riley County district court Tuesday morning.
Dominick Lubrano of Ogden died this past March at Children's Mercy Hospital in Kansas City. The original case came in as an aggravated battery incident over a weekend, with Lubrano lifeflighted to Children's Mercy from Mercy Regional Health Center, where he died three days later.
Witnesses allege Dechant reportedly shook the baby, with serious head injuries resulting.