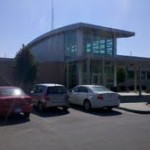 Riley County Police Department Director, Brad Schoen conducted a press conference Tuesday afternoon to release additional details about the disturbance from earlier that morning at the Quality Inn.
As KMAN previously reported, the incident took place just after 6 o'clock that morning at 150 East Poyntz Avenue, and the 911 call indicated shots being fired.
Police officers from Riley and Pottawatomie counties responded and once on scene, observed a subject discharging a firearm outside of the hotel.  As the events unfolded, officers ordered the subject to cease fire and drop the weapon.  The subject failed to comply, and therefore officers returned fire and struck the subject multiple times.
Officers immediately rendered first aid and summoned medical assistance for the subject.  There were no injuries to officers or innocent members of the public during this incident.  The subject was transported to Mercy Regional for treatment of gunshot wounds.  Further details about the suspect's medical condition have not been officially released at this time.
The names of the officers involved, as well as the subject's name, have not been released at this time, but the Kansas Bureau of Investigations will now take the lead in this case.
Police did say the subject is a male, but gave no further description.  They also did not disclose what kind of firearm the man used.
The Riley County Police Department would like to thank the Pottawatomie County Sherriff's Office, the Kansas State University Police Department, the Kansas Highway Patrol, the Wamego Police Department and the Kansas Bureau of Investigation for their assistance in this matter.