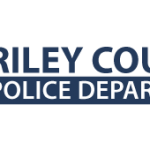 Riley County Police indicate they made an arrest on criminal trespass and battery charges.
Tracey Toliver, 27, of Manhattan was taken into custody on the charges while in the 700 block of Juliette in Manhattan on Thursday evening at approximately 5:20 PM. This arrest stemmed from a warrant regarding an incident that occurred toward the end of 2013. Toliver's bond was set at $8,000.
###
The Riley County Police Department arrested  Brandon Gibson, 21, of Manhattan on a failure to appear warrant stemming from the offenses of driving while under the influence of alcohol and driving while suspended.
Gibson was held and released on $6,000 bond after being arrested at the Riley County Police Department just before midnight Thursday night.
###
The Riley County Police Department has filed a child abuse report that was initiated by an agency outside of Riley County. The offense allegedly occurred in the city limits of Manhattan.
This report was filed Thursday evening and involved a two-year-old victim who reportedly sustained bruising. This investigation continues and no arrests have been made at the time of this report.