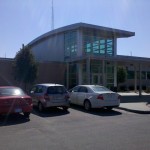 A 34-year-old Manhattan man faces two counts of battery of a law enforcement officer following an early New Year's day incident.
Bradley Kingsley was arrested on the two counts, as well as interference with law enforcement, and disorderly conduct.. Riley County Police report Kingsley was being placed under arrest for disorderly conduct after what was believed to be an attempt to incite a fight in the large crowd of New Year's Eve celebrators.
Upon being arrested for disorderly conduct Kingsley allegedly battered two officers resulting in non life threatening injuries.
Kingsley's bond was set at  $15,000. The incident occurred on January 1st at approximately 12:20 AM.
At least 14 citations were issued around New Year's Day for alcohol violations such as minor in possession or open container and for disorderly conduct.
###
Police are looking for a 2007 Chevy Colorado with Kansas plates which was reported as stolen from Welsh Road and County Line Road near Riley. The vehicle belongs to Brandon Amsden, whose information was not readily available by the Riley County Police Public Information Office at the time of this report.
The vehicle is reportedly worth approximately $25,000 and currently suspects are unknown as officers continue to investigate.