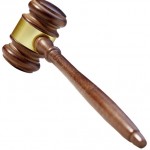 A Riley county jury decision in a 2011 aggravated robbery and battery case has been affirmed by the Kansas Court of Appeals.
The jury's convictions were appealed by the defendant, Naazir Muhammad Jackson, who was found guilty not only of one count each of aggravated robbery and aggravated battery , but also two counts of possession of drug paraphernalia. Jackson maintained prosecutor misconduct denied him a fair trial, and says there was insufficient evidence to support the charges.
The 32 page Court of Appeals decision was released Friday, again affirming the jury's conviction. Judge David Stutzman presided in the case, with Barry Disney, Kendra Lewison, and Barry Wilkerson representing the state. Jackson was represented by Randall Hodgkinson and Marsha Sonner.