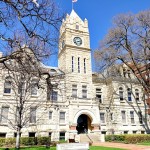 KMAN previously reported on a change of venue murder case, and the jury trial is still being held in Riley County District Court.
The case, out of Salina, involves the beating death of a 14 month old child that occurred in October of 2011. 29 year old Antonio M. Brown Sr. faces charges in connection with the crime. The mother of the child, Brittany Betzold has already been convicted of second degree murder and was sentenced to 13 years in prison.
Two investigators were called to the stand, the first of which identified photos of Betzold's Pontiac Sunfire, and a receipt from Ace Hardware. The second investigator participated in the search and evidence collection after the incident took place, and stated a silent alarm was placed in the house to detect entry.