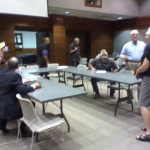 Riley County facilities has been a popular topic during previous Riley County Commission meetings.  The topic was brought before Pottawatomie County and Manhattan City Commissioners, during Thursday's joint meeting.
Riley County Commission Chair, Dave Lewis shared information about some options the commission has come up with in past discussions.  He mentioned parking concerns and space needs.  The combined commissions discussed various options for space downtown, including utilizing the community building.
Manhattan City Commissioner, Karen McCulloh commented, "let's stop treading water and move forward".  Lewis and numerous other commissioners agreed with McCulloh that it's time to make some decisions.
The group decided to pick members for a joint facilities task force to be designated to the project.  Each governmental body will provide a member, and will announce those members by September 30th.
——–
Clarion Associates will be the Lead Firm on the Manhattan Urban Area Comprehensive Plan project.
Maps were presented to outline the comprehensive plan, and the first step in the process is to select project advisory committee members.
It was decided that 22 members would be an adequate amount for the committee-ten from the city of Manhattan, three from Riley County, three from Pottawatomie County, and six other members.
The group came to a consensus that this was a good plan, and decided mid-October sounded like a good deadline to have the committee members chosen.