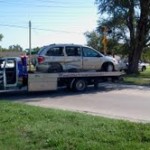 Thursdsay, at the intersection of Casement and Allen road a two car accident occurred.
Dawn Goscha (41) and her 10 year old daughter were traveling south on Casement in her tan mini van when Tanner Cannizzo (18) who was traveling east on Allen in his silver truck failed to stop at the stop sign and collided with Goscha's vehicle.
Goscha was the only injury, but she declined treatment.
Cannizzo was cited with a failure to stop at a stop sign.