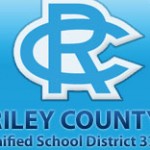 More than 200 people showed up for Riley County's USD 378 school board meeting Tuesday night. Many of those were there to show support for formerly suspended high school business teacher Mark Laurie.  District Superintendent Brad Starnes wasn't sure if the close to 240 registered for the meeting constituted a record for a board meeting…
Starnes tells KMAN he can't say much when it comes to a personnel issue, but he confirms Laurie had been suspended a few weeks ago according to district policy. He adds the attendance at the meeting was a show of support for the teacher, and speculates this is a true case of hearing from the silent majority. 
Starnes adds a unified front from the teachers was evident, with the President of the Riley County Educators speaking to the board about expectations and support for Mr. Laurie.
Laurie has been reinstated as a teacher as a result of the Tuesday night meeting.
Starnes says now it's time to move forward.