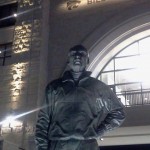 Thousands of K-State fans gathered in the parking lot of Bill Snyder Family Stadium Friday morning, to witness the dedication of the 75 million dollar, West Stadium Center.
The dedication featured several speakers including, Governor Sam Brownback, Head Coach Bill Snyder and K-State President, Kirk Shultz. The cast of ABC's hit show Modern Family, including K-State Alumnus, Eric Stone Street, also made an appearance via video.
A statue of Bill Snyder was also unveiled during the dedication ceremony.